The Practice
Stead & Co. are a RIBA Chartered Architectural Practice based in Otley, West Yorkshire.  We provide a full architectural and design service for a range of clients.
We have been fortunate to have worked on a variety of really interesting projects, ranging from city-wide lighting installations, new build churches, listed Medieval halls to residential refurbishments and school extensions.
In particular, we specialise in existing spaces.  There is nothing more exciting than giving an existing building, whether historic, mid-century or relatively new, a new lease of life.  All buildings have some sort of history, not just in terms of itself, but how it fits into the wider community and streetscape.  Whether finding new uses or extending it's life, working with existing properties is both challenging and incredibly rewarding.
So how do we do this?  Well, we ask questions.  An awful lot of questions.  It helps us get to know you, your priorities, your passions and really get to the crux of what you need.  In our experience, the solution to the problem in hand is not always the one that we all assumed was the right one at the start.  Essentially, in our view, architecture is about solving problems.  Whether it is the desire to have all the family round the table for Christmas dinner, the need to improve employee retention by rethinking a workplace design or the necessity for a secure entrance to a school, Stead & Co. are able to work with you to create an interesting solution that solves your problem.
Stefanie Stead – Director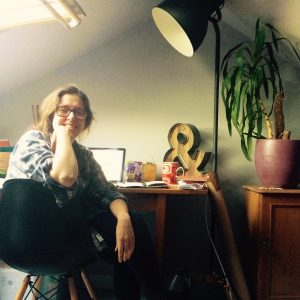 Stefanie is a Chartered Architect and has worked across Yorkshire on a range of urban design, heritage, residential, retail and educational schemes. She is the Chair of the Construction Industry Council Yorkshire and Humber and also sits on the RIBA Yorkshire Council. She is a Regional Design Review Panelist for Yorkshire and Humber.
Her interests lie in architecture as a wider profession – exploring the possibilities of what 'architecture' is, and what it could be. She is particularly interested in the narratives of a place, whether historical, political, socio-economic or folklore. Indeed, stories – whether personal or created – allow a place to be reconsidered and interpreted in quite different and enlightening ways. Her passion is creating. Whether a masterplan, building or a quilt, the process of designing, creating and searching out answers to interesting questions influences every aspect of her life. 

She believes that is it is crucial to involve those who will benefit from the process in the process. By working with local communities, charities and schools, designs become relevant and long term. She has extensive experience of facilitating consultation and design workshops with a range of participants, ranging from Elected Members through to school children. 
She is a judge for a number of industry awards including the RICS, Constructing Excellence and the CIOB Committed to Construction Awards. She has previously judged the York Design and the RIBA Awards.